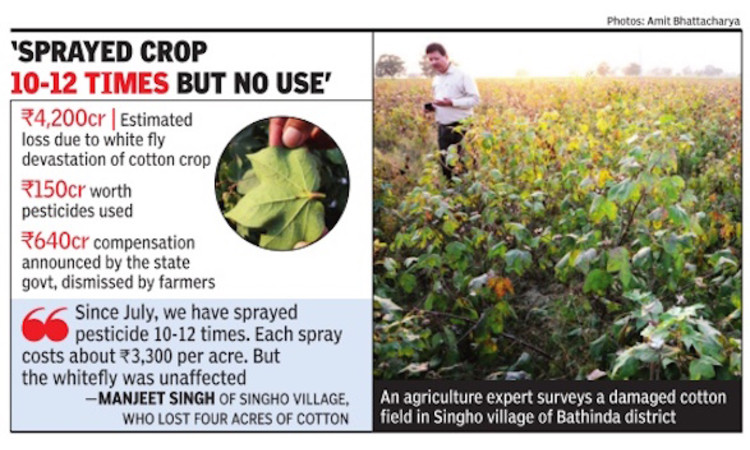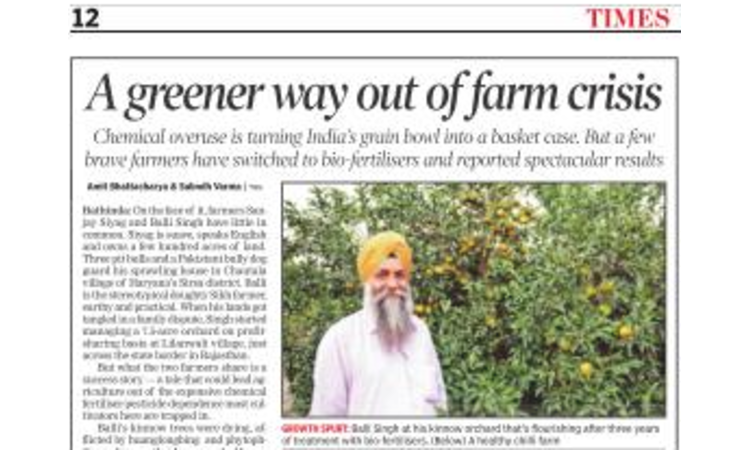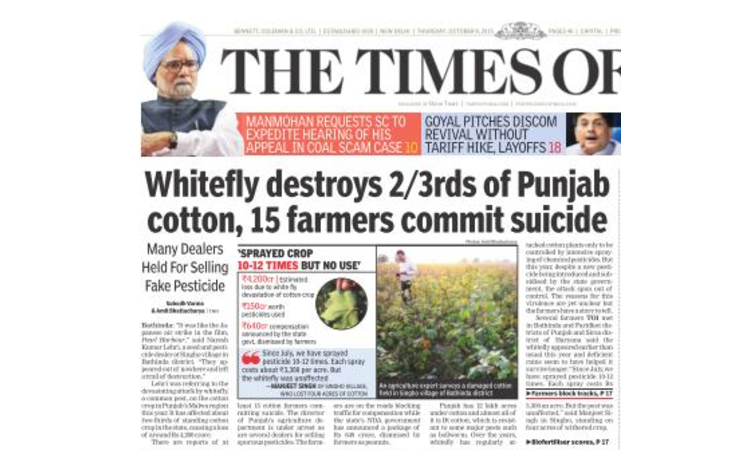 The articles carry interviews with leading farmers in Haryana, Punjab and Rajasthan growing a variety of crops, all of them having one thing in common: reduced profitability of operations resulting from pests, diseases and adverse climatic conditions causing stagnation or reduction of yields.
In the case of paddy, yields in Punjab (the highest in our country) are about 4 tons per hectare and have stagnated at thes elevels for over 20 years. Chinese farmers get 6.25 tons per hectare and Australian farmers average 10 tons per hectare using almost the same quantity of chemical fertilisers as in North India. This puts immense pressures on the resources of our country since a significant share of fertilisers is imported and prices keep going up. Farmers therefore depend on increasing support prices from the Government to stay afloat, a hot political issue. As newer areas like UP, Bihar and MP take up intensive farming, consumption of fertilisers keeps increasing. Our subsidy bills on this head alone will cross Rs 100,000 crores.
At the same time, the country's poor are unable to afford higher prices for their staple food itmes like wheat and rice necessitating a whopping food subsidy to be provided by Sate and Central Governments.
Basmati rice, one of India's prized export commodities suffers the brunt of heightened disease incidence such as blast and root rot. Increased application of chemical fungicides by hapless Indian farmers leaves a high level of residues in the rice and rejection of consignments by importing nations, hitting export revenues and giving our country a bad name.
Cotton yields (most of it being GM cotton) have dropped drastically due to whitefly attack and farmers have been hit by poor quality obtaing hardly 1 -3 quintals per acre of poor quality cotton despite heavy expenses on seeds, fertilisers and pesticides.
Vegetable and potato farmers also go through boom and bust phases as yields and prices oscillate based on climatic conditions, disease incidence and acreage. Vegetable farmers spend Rs 25000 or more per acre, yet yields are not keeping up with the world's best.
Farmers growing a variety of crops using the STEP System have been able to reduce the use of chemical pesticides and increase yields making them internationally competitive. Yield increases have been remarkable across crops:
Upto 11 tons per hectare for paddy and 7 -8 tons of wheat. Yields of potato have crossed 62.5 tons per hectare and chiilies are over 100 tons per hectare and brinjals about 150 tons. Cotton yields have been above average despite whitefly attack and without excessive use of chemical pesticides. Yields of Kinnow with low intensity planting of just 80 -100 trees per acre hae crossed 16 -18 tons per acre, much more than Florida which averages just 12 tons per acre.
Just imagine what could be achieved if this could be spread across the country.
This is what the TOI team discovered and it simply blew their minds.
References
A Greener Way Out of Farm Crisis
Whitefly destroys 2/3rds of Punjab cotton